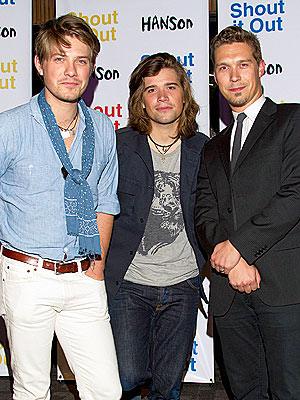 Hanson
is expanding their empire once again, but this time it's not with a
new baby
– or even a new album.
The band of brothers, who've been recording music and touring the world since they first shot to fame with their infectious hit "MmmBop" in 1997, are branching out.
Their newest endeavor: a beer called, wait for it, MmmHops.
After the buzz-worthy news hit the Internet Wednesday, Zac Hanson released a statement confirming the project.
"A branded HANSON IPA beer concept is in the works under the moniker 'MmmHops,' " says the drummer, adding that the idea, "has been brewing for some time."
No further details were available, but PEOPLE will be in touch with the band to try to get readers a first look (ahem, taste?) at the new beverage.
The brothers also have eight kids among them but have joked that their brood shouldn't define them.
"We have no intentions to battle the Osmonds in any way,"
Zac has joked
about his brothers and their kids (Zac and Isaac have two kids each; Taylor has four). "They can have the crown."
From the PEOPLE TV Archiv