TaysLoverGurl003 went to St. Louis concert and shared with us, her big day!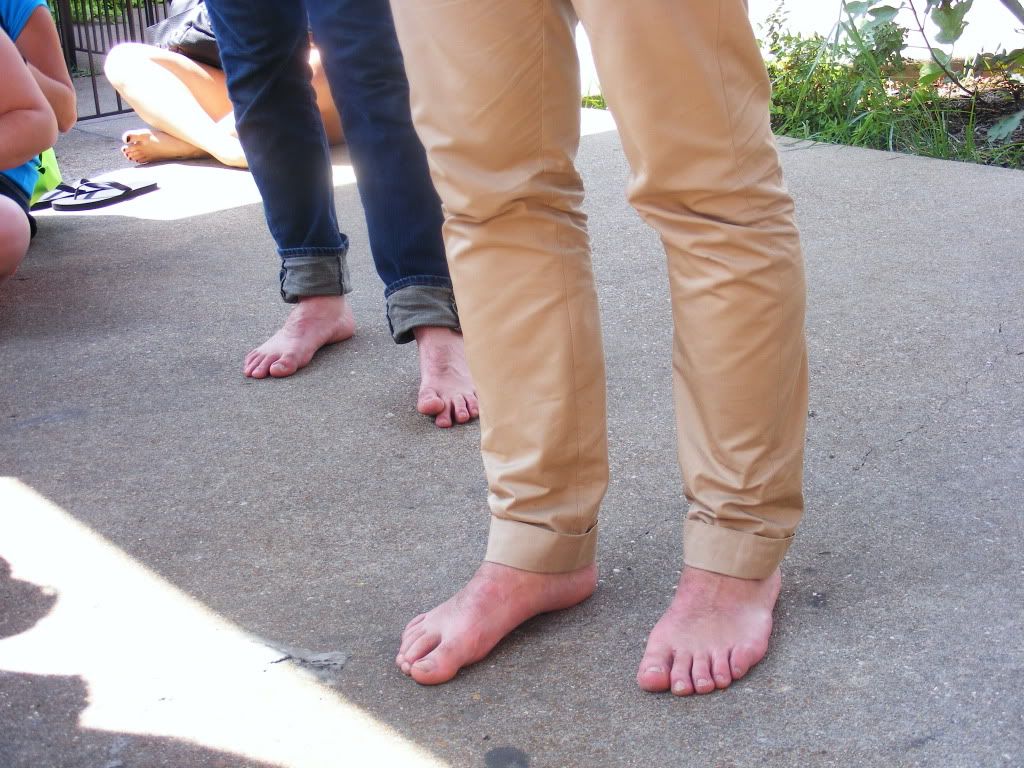 "I had such a blast lastnight! The show was amazing. Ronney was amazing and Hanson was of course AMAZING!! I arrived for the walk that afternoon and it was HOTT! When it was getting to start i did try to walk barefoot but i couldnt. the ground was just WAY too hott for my feet. so i walked in my socks but then after Tays big speech i felt i needed to try again. so i did and it was just too much. i couldnt do it completly barefoot. my feet were burning. so i did it in ,y socks again which i could still feel the ain but not as bad but still. after the walk i had to buy a water bc i felt dehydrated and it would just soo hott out. so me and my friends cooled off for a bit then went across the street to a chinese resturant and i got a diet coke since i ate on the way to the show. then we sat and talked for awhile and then we went inside the bar. it was just me and my friend kate bc aur other friend had to stay with her sister bc it was undersage. then while me and kate were chatting inside and getting some much needed AC they annouced on the entercom that they didnt allow cameras. I was pissed! i had to stop and get a brand new memory card and everything so i could take pics during the show and they decided to change it at last minute. not very happy. so i had to hide my camera in my purse. once they let us all in at 6:45 i got front row with my friends and i was so excitied and sd bc i could have gotten some GREAT pictures during the show. the opening contest winner was pretty good when he made the stage at like 7:30 i think it was. then Rooney was out at 8:45 and they were AMAZING! they had all sing Happy Birthday to their guitarist Taylor which was cool. Then Hanson came out at 9:35 and they opened with a medely which amazing! it started with Waiting for This, Rock n Roll Razerblade, and others. They played everything it seemed like from Been there Before, Wheres The Love,Mmmbop (of course!) If Only, Madeline, Carry you There,, Make it OUt Alive, Give a Little, Musical Ride, Voice inThe chorus, Me, Myself and I (BEAUTILFUL LIVE!) Kiss me when you come home, Thinkin Bout Somethin', and i waited, and the encore was Man From Milwaukee. I also got to touch Tayslor hand during the show! It was amazing night and after i got pics with the guys (again!) except the one i got with tay he was looking away from the camera so didnt turn out like i hopped but Thats ok. I got a pic w/ him none the less! I also got BOTH my Shout It Out CD and Poster signed by ALL 3! and someone handed my little sister a red guitar pick and she gave it to me so now i have a hanson guitar pick! It was such a awesome night and i cant wait for the next tour! if its as hott as it was this time next time i dont think i'll do the walk. lol So Hanson if you read this how about another Fall tour! lol Thanks and If anyone was at the show lastnight and have any pics of the show please share them! Thanks!!! :)"
shequitadanee added:
"I agree! The St. Louis show was amazing. I think the walk was a little miserable, I'll admit that I didn't enjoy THAT much but it's a good cause and for charity so it's okay that I didn't like it. Haha, the show itself was amazing. I had a problem with the no camera policy at first(you know that!), but eventually I was kind of happy about it because it meant I could focus on the show and not my camera, which was a nice change.
Because I didn't have my camera I was really able to get into the show. I danced like I've never danced before and with a complete stranger at that! I don't even know her name(....no pun intended), but I had so much fun with her. So if you danced with a black girl in red and white stripes: Thanks! You made my experience super enjoyable and fun! I don't usually get out of my comfort zone like that but it was amazing!
After the show was awesome. I wasn't expecting all of them to come out and sign/take pictures. That was very classy of them. The things like that make me realize how awesome this band is. Their job is to show up and play a show, not stand around for hours afterwards making sure every fan goes home with something. They're great.
My sister has been a fan since she was 2, and this was the PERFECT first concert for her. I think she enjoyed it more than I did! Every song she'd look at me and say "OHMYGOSH!!!" because every song is her favorite. The guys were really sweet to her after the show. I think Taylor was really amazed that she's been a fan since she could talk basically. She's never known life without this band so to be able to see them perform live and meet them was the best. I'm so happy for her and I appreciate the guys making it the most enjoyable experience ever for her! Thanks guys!"
1. Waiting For This /Watch Over Me/ Rock N Roll Razorblade/In The City medley
2. Make It Out Alive
3. If Only
4. And I Waited
5. A Minute Without You
6. Get Up & Go
7. Hey
8. Carry You There
9. Musical Ride
10. Strong Enough To Break
11. Me Myself and I
12. Been There Before
13. Thinking 'Bout Somethin'
14. Where's The Love
15. Madeline
16. Kiss Me When You Come Home
17. Penny and Me
18. Voice In The Chorus
19. MMMBop
20. Give A Little
21. Dancing In The Street