February 22, 2011 07:24:25 GMT
Taylor and his Hanson brothers/bandmates release another dance-themed music video which adds more fun with paint-splattering scenes.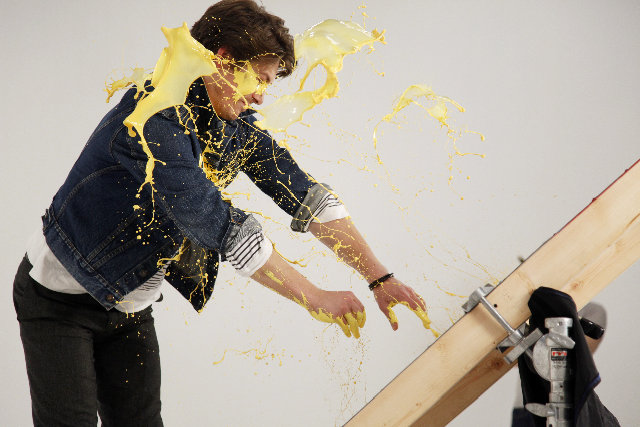 After taking a large number of people to create a spontaneous outburst of dancing on the streets in
"Thinking 'Bout Somethin' " music video
,
Hanson
now have another fun in a newly-debuted clip for their second single "Give a Little". They are jamming to the funky beat while people are dancing around the screen. In one point, they spray paint to the camera.
In the filming, "they give a little video has real life paint splattering in it, made by building a plexi glass box around the camera and filling water balloons with paint, and them throwing them at the glass in order to make them burst." Taylor Hanson shared of the said scene, "I of course volunteered for this job."
"And [I] got more than I bargained for with the first balloon exploding in my face, (tasty). Anyways, it was actually great, and I have on more than one occasion worn the clothes that were used and now covered in paint...cause well they look awesome."
"Give a Little" is lifted from Hanson's 2010 studio album "
Shout It Out
". "[It] is the perfect connector to the first single," Taylor told MTV. "There's this energy to it. Strangely, there's this dance theme. We're not known for our dancing, but dancing is this metaphor that's in the record."

Hanson's "Give a Little" music video