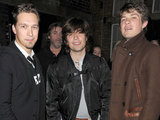 Hanson have said that they were "flattered" by the opportunity to appear in Katy Perry's music video for her new single 'Last Friday Night'.

The group appeared as the house band in Perry's alter ego Kathy Beth Terry's house party for the clip, joinin

g fellow guest stars
Rebecca Black
, Kenny G, Debbie Gibson and
Glee
stars Darren Criss and Kevin McHale.
Lead singer Taylor Hanson told
MTV News
: "We were flattered to be asked, and it was great to be a part of it. We had a really good time. It was one of those things that worked out really well.
"They said [they] needed a band to play the party, and we thought we could bring the party - even if it was a fictional party."
Taylor also praised Perry for her commitment to bringing the video's concept to life, saying: "She was completely in character and to the point of like, 'Okay, where does Katy Perry begin and this character end?' And, honestly, it seemed like she kind of is a method person. She seems like she goes in all the way.
"So we hung out a little bit, and during the performance and everything, obviously, we were all there on set, but she was definitely inside of the character throughout the shoot, which sounds tiring to me."
Perry recently
released a series of video clips to serve as "extras" to the 'Last Friday Night' clip
.
Watch Katy Perry's video for 'Last Friday Night' below: